The Evolution of SafePath Medical and the SafePath Safety Suturing Device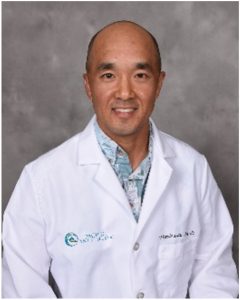 Dr. William Travis Lau (Travis) suffered a needlestick injury at Queens Medical Center in Honolulu while he was suturing a catheter to a patient. Needlesticks and other sharps-related injuries are well known to expose healthcare workers to bloodborne pathogens, such as hepatitis C, hepatitis B, HIV, and over 20 others. Through this traumatic and costly experience, he conceived a medical device that would enable a healthcare worker to securely suture catheters to patients and simultaneously protect everyone in the room from accidental needlestick injuries before, during, and after medical procedures. Although nearly every sharps device in a clinical setting had a safety version in commercial use, Travis recognized that there were no commercially available safety suturing devices that would protect healthcare workers. With a prototype and a pending patent, he searched for a company or individual to fully develop and commercialize his concept of a safety suturing device.
Travis was an anesthesiology resident at Tufts Medical Center in Boston when he met Joe Lane, Founder of Ingens Medical, at an innovation showcase and soon after they began building what would become SafePath Medical. Travis continued to serve as a clinical advisor to this project as he completed a fellowship in cardiothoracic anesthesiology at The Cleveland Clinic and later joined Pacific Anesthesiology Services in Honolulu. In the years to follow, the SafePath Medical team optimized the device design and commercialized the first safety suturing device for catheter securement and wound closure.
Travis's life was tragically taken in 2019, however, his legacy as a physician and innovator lives on. In addition to conceiving the safety suturing device, he was the Chairman of the Society of Cardiovascular Anesthesiologists' Blood Conservation Working Group and an early, passionate proponent of reducing blood transfusions during cardiac surgery. Travis instituted a patient blood management program that to this day continues to greatly reduce the amount of blood transfused during cardiac surgery. He advocated for patient safety-first policies and worked to ensure that national standards and guidelines reflected the very best, most modern practices.
The SafePath Safety Suturing Device is an enduring symbol of Travis's legacy. Countless needlestick injuries have been prevented through its use in clinical settings. Travis's vision of an all-in-one suturing solution that is safe for all, intuitive, costs saving, fast, precise, and easy to use has been realized and it is anticipated to become the new standard of care.
Photo and content are courtesy of Melissa-Iris Lau, William K. K. Lau, and Pacific Anesthesiology Services, Honolulu HI